A cluttered directory tree is a common problem for many Mac users. It happens when you have multiple folders with subfolders, with some other folders and files inside them, making it hard to navigate and find what you need. Fortunately, there is a simple and effective solution for this complex situation: MyQuickMac Neo, the AI-powered program that can sort your files in seconds. MyQuickMac Neo offers a unique technology, File Sort AI that can automatically sort your files at the speed of 1,600,000 files p/h. With MyQuickMac Neo, you can enjoy a faster, more organized, cleaner, and smarter Mac without any hassle.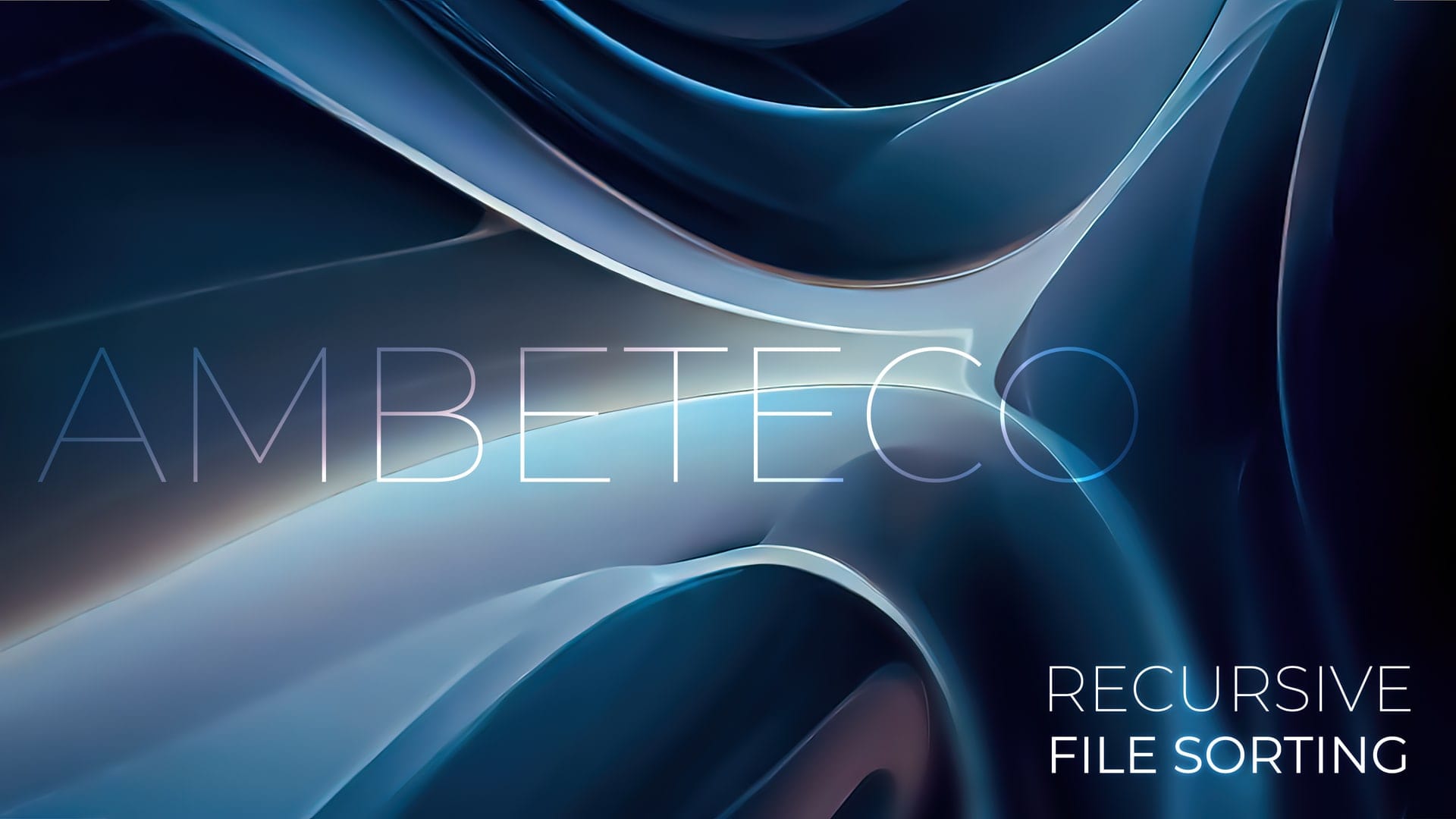 How to use the "Recursive" sorting mode in MyQuickMac Neo
If you are looking for a way to sort your files quickly and efficiently, you might want to try the "recursive" sorting feature in MyQuickMac Neo's Custom Scan operation mode. This feature allows you to sort all the files within a folder and its subfolders with just one click.
This article explains how to use the "recursive" sorting feature in MyQuickMac Neo's Custom Scan operation mode. Take a look at the full potential of Ambeteco's technology by taking a glance at the exclusive guide on the Custom Scan (which will be published soon!).
When to use recursive sorting?
Recursive sorting is an efficient feature that can quickly sort thousands of files located throughout the directory tree. In addition, it can be especially useful for sorting files on flash drives or external drives. It is important to be cautious when applying recursive sorting, as some directories may have a unique structure that could be impacted if the sorting is not handled carefully.
Thankfully, with MyQuickMac Neo, you can rest easy knowing that you have access to the powerful Rollback feature. This feature is just like the famous "Ctrl-Z" keyboard shortcut, but it is specifically designed to help you undo any changes you've made to your sorted files. Whether you've accidentally sorted some files that shouldn't have, erroneously applied recursive mode, or made unwanted changes, Rollbacks make it easy to revert the sorting. With MyQuickMac Neo's "Rollbacks" on your side, you can confidently sort and organize your files without fear of mistakes or unwanted changes. You can learn more about Rollback in our 1-minute guide dedicated to it.
How to configure the recursive sorting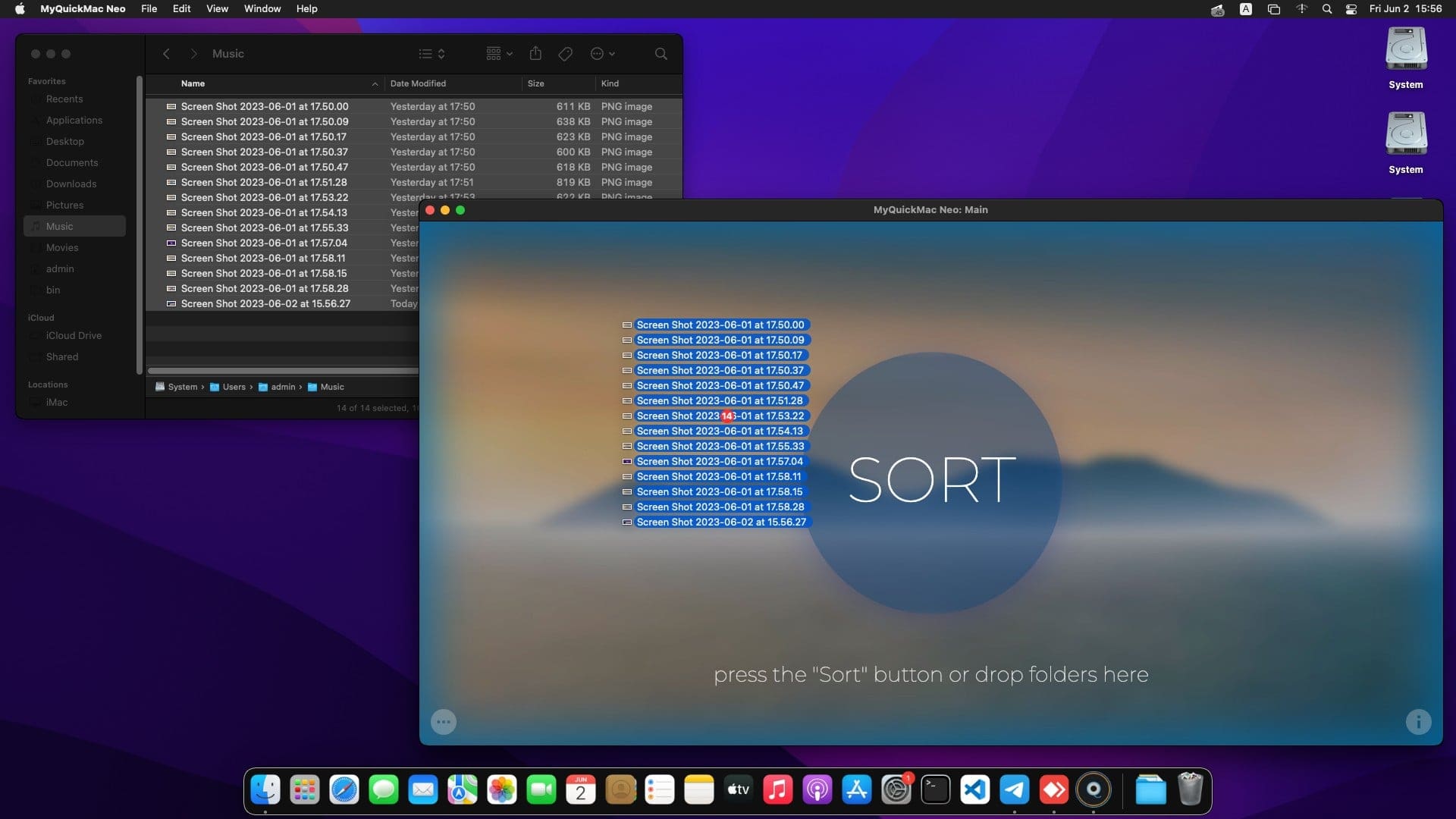 To activate the custom scan, drag and drop the folders or files you want to sort into the main window of MyQuickMac Neo. This will open a window where you can configure the sorting options. Here, you will find a "recursive mode" toggle, which is turned off by default.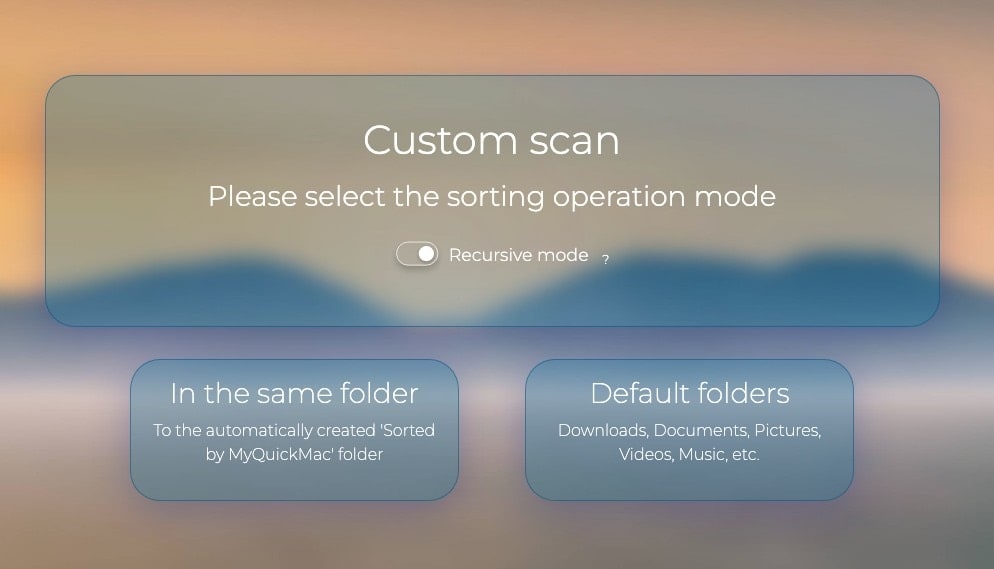 When the recursive mode is enabled, MyQuickMac Neo will sort all the files within the entire directory tree. This means that MyQuickMac Neo will sort all the files in the selected folder, all the files in subfolders, all the files in subfolders of subfolders, and so on.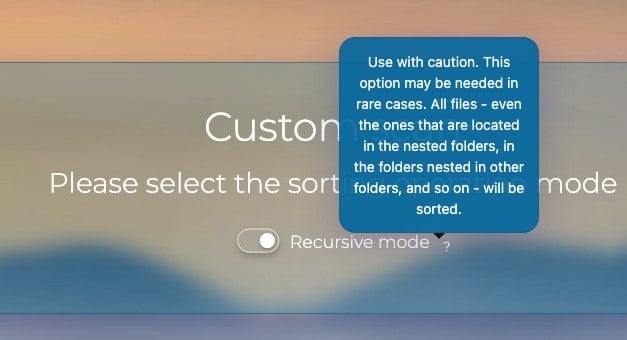 Final thoughts
Sorting files can be a daunting task, especially when dealing with complicated directory trees. However, with the help of recursive sorting, organizing files can become a breeze. This can save time and effort, but it's important to use this feature judiciously and with proper thinking. Improper use of recursive sorting can lead to unintended consequences.
So, it's natural to be concerned about the possibility of making a mistake while sorting files using the recursive mode, which makes it harder to decide if you need to use this feature. But don't worry, MyQuickMac Neo has got you covered! Thanks to its powerful Rollbacks feature, you can always undo any changes you've made to your sorted files should the need arise. This feature ensures nondestructive sorting, giving you the freedom and flexibility to undo any sorting you do.
With Rollbacks at your disposal, you can confidently sort even the most complex directory trees without fear of making irreversible mistakes or losing important data. So don't hesitate to take advantage of the many benefits of recursive sorting with MyQuickMac Neo, knowing that you have the safety net of Rollbacks at your fingertips.
In this article, we have discussed the benefits and challenges of recursive sorting, a feature that is irreplaceable when it comes to decluttering directory trees, flash drives, or external drives. Whether you need to sort files for personal or professional purposes, MyQuickMac Neo can help you achieve your goals faster and more efficiently. To learn more about MyQuickMac Neo and its features, visit Ambeteco's website.